Another horrific and hilarious movie about a murderous doll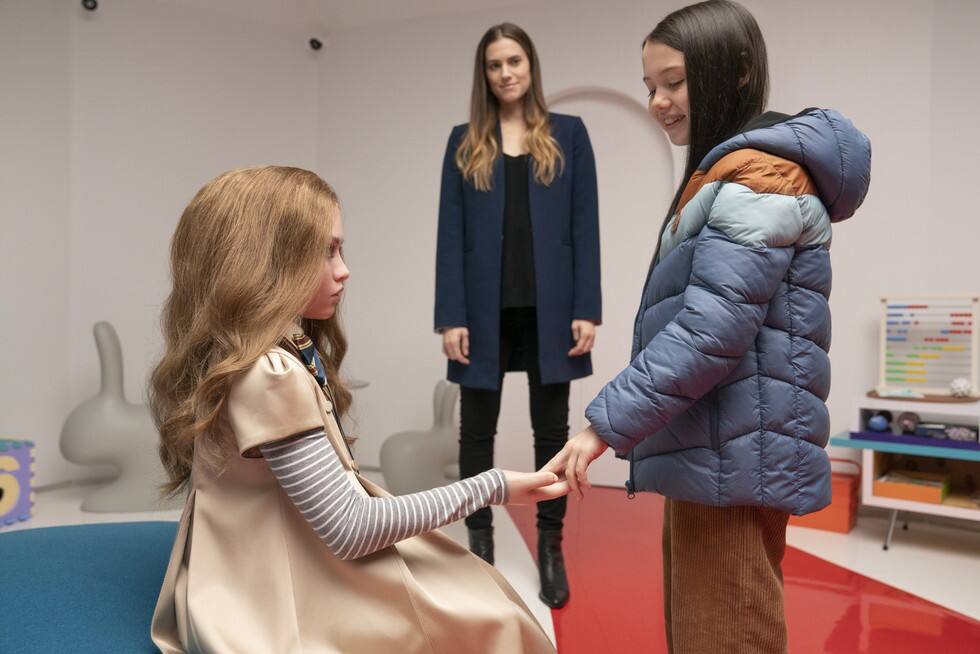 Movie history has proven that there is something inherently funny about a person being terrorized by a killer doll. And the boy does "M3GAN" delves into the delirious hysteria of humans being threatened by the devil's toys. After seeing this January chortler, you won't get such a nice view of all the fancy stuff Boston Dynamics' robot dog can do.
Gemma (Allison Williams) is a roboticist and inventor who makes lame animal toys for Funki Co., but she uses her lab to work on a super-powered human prototype M3GAN (short for Model 3 Generative Android, duh). She wears enough flannel to indicate that she resides in the Pacific Northwest and lives alone with tools and the company of Elsie, her Alexa-like device.
Workaholic Gemma sends her niece Cady (Violet McGraw) a simplistic robot called Perpetual Pet, which the girl deliberately supercharges on a road trip until it loses its intestines in the back seat. Shortly after, Cady's parents drive into an oncoming snowplow, killing them instantly. The bereaved girl goes to live with Gemma, who has the right confidante for a single girl.
M3GAN Beta (voiced by Jenna Davis) sounds like Mary-Kate or Ashley Olsen (whichever evil twin). Although such a companion comes at a steep price, Gemma touts it as the only toy you'll ever need to buy for your needy brat.
After being paired with Cady, M3GAN mutters "Nice to meet you" – the sound designer has done a good job of putting just enough electronic edge to the pleasant vocals to make it believable as a machine. When they first meet, M3GAN somehow draws a photorealistic portrait of Cady with crayons and a quick friendship is forged.
Gemma's boss, Funki CEO David (Ronny Chieng), is also enamored with the potential of mass-produced M3GANs. He's a fun, gullible leader who talks like a pitch deck that's been converted into human form. He yells at Gemma, "this will be the moment we kicked Hasbro in the dick!"
It goes without saying that M3GAN's powerful intelligence quickly leads to macabre ends. To learn more about Cady's lost parents, the robot consults the Wikipedia article on "death" and sets off down a dark path. Gemma's neighbor's yippy dog ​​is the first to fall under M3GAN's ruthless, silicon-blooded gaze. She records and uploads everything she sees and hears to inform future acts of violence.
As the company races to bring the android to market, Gemma begins to have disturbing run-ins with the doll. She says, "M3GAN, turn off." "M3GAN, turn on! Cady replies. On an outdoor trip, M3GAN must sit sullenly among other children's stuffed animals before breaking free and chasing a boy who is bullying Cady through the woods.
Despite the ridiculous nature of the plot, on some level the whole scheme makes sense, since M3GAN is the perfect thing for irresponsible workaholics to buy for their children (with the robot you no longer have need nannies or schools). It solves America's biggest problems for just $10,000. Plus, she can do all of your revenge killings for you!
There are hilarious moments, like when M3GAN sings Sia's "Titanium" to calm Cady's frayed nerves. And it's not hard to imagine a self-aware robot rapidly becoming smarter than technical executives. The film's main flaw is that it doesn't take full advantage of Allison William's skills as an actress – she plays so deranged in 'Girls' and 'Get Out' that it's a shame her character is so gooey and empathetic. It would be more fun if Gemma was driven to improve M3GAN's monstrous code at all costs. Otherwise, why would she have lent the android superhuman strength?
"M3GAN" clips all the way under the direction of Gerard Johnstone and written by Akela Cooper (who tapped into a similar bonkers energy in last year's "Malignant"). The film culminates with David presiding over an extremely cursed product launch – in the end, it looks like M3GAN is destined to kill more children than even the Tesla CyberTruck on autopilot.
• • •
"M3GAN" is screening at Prime Cinemas Sonoma. Rated PG-13. Duration 1h42. Go to prime-cinemas.com.